ARTIEM Epic Camí de Cavalls 360º is a trail running and MTB race in stages that goes around the island of Menorca, with participation in teams of 2 or solo, 3 different modalities and overnight stay at the official accommodation.
Modalities
You can choose from three different modalities to participate in this race:
TrailRun Epic 360º. The epic adventure of Camí de Cavalls 360º divided in three stages of race on foot (running) with an average of 62 km and an elevation gain of 1,060 m.
Experience 360º. The experience of Camí de Cavalls 360º with 3 selected stages with an average of 31 km and an elevation gain of 480 m.
MountainBike Epic 360º. Camí de Cavalls 360º in three stages of pure MTB through an exciting and technically demanding track.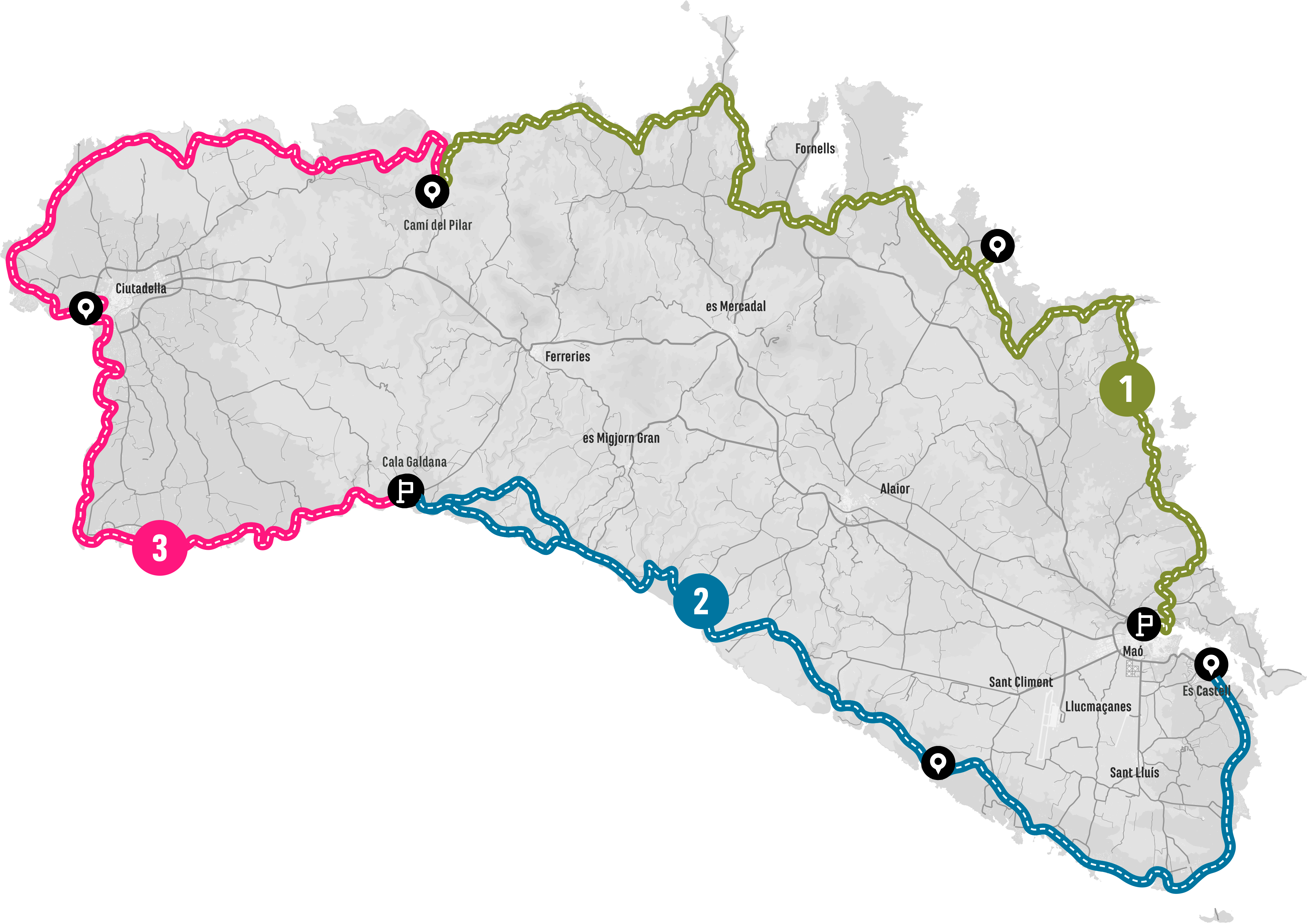 Team or solo participation
Participation can be done in teams of two or solo. In both cases, participation must be done in tune with the values of the Epic Camí de Cavalls 360º race: collaboration and solidarity amongst participants, joining forces, sharing experience and, all in all, the coexistance during three days with a community of a group of different people with the same values and goals. When participating in teams, both members of the team have to complete together all the itinerary.
Classification and Minimum time
Winners of the event will be the ones who complete all three stages in a shorter time within each category (mixed, male and female) and modality.
Regarding schedules and cut times, they will be shared in the following weeks. Anyway, they will allow the Experience 360º to be done on a fast walking pace without stops, while TrailRun Epic 360º modality can only be completed running in some of the sections.
Route
The Epic Camí de Cavalls 360º avoids as much as possible urban and paved zones, aiming to offer the best route available. Anyway, in some cases the asphalt is inevitable to complete the track, and these sections will be done sharing them with the traffic.
The itinerary is based on GR 223 Camí de Cavalls, an ancestral path that goes around Menorca, following faitufully, during a lot of kilometres, the borders of the island. Along its 157 KM, it goes through a range of landscapes unique in the world, formed by a great number of natural areas, usually fragile and protected. Amongst them, the most important area is Albufera des Grau natural park and other natural protected areas: large unspoilt caves, streams, precipices, cliffs, woods and lands, framed with the typical Menorcan dry-stone walls.
Official accommodation
We recommend doing the race with overnight stay at the official accommodation, the ARTIEM Audax hotel, which can be booked when registering to the race, or afterwards from "My entry" space (subject to availability).